How advertising can help motivate social change
Social marketing is one of the most important and exciting areas of work for creatives. By applying our skills and techniques from advertising, we are able to contribute to solving a range of social problems.
And that's what social marketing is, marketing that's done to change behaviour. Usually, the goal is to change a bad behaviour, but it can also encourage us to maintain good behaviour.
The term is often confused with social media marketing, especially since we've started using "social" as a shorthand for social media.
A brief overview of social marketing
The goals of social marketing are usually to raise awareness of a societal problem, and work to convince an audience to change, or keep up, their behaviors.
Instead of being focused on building a brand, social marketing is focused on changing a behavior in order to create the change.
Advertising is part of social marketing, but it's only part. For instance, with drinking and driving, there are laws that can impact change, as well as enforcement of the laws which all together contribute to changing behaviour.
Like all advertising, the focus is on humans—on learning what people want and need rather than trying to persuade them to buy what we happen to be producing.
Sounds simple, but keeping that alignment is critical in social marketing. People always have choices and if you think it's hard to convince a person to change their toothpaste brand, it's even harder to change a behaviour.
Nancy Lee describes this well in her book; Social Marketing: Changing Behaviors for Good.
"Social marketers view their audience as decision-makers with choices, rather than students to be educated, or incorrigibles to be regulated. Social marketing begins with a bottom-up versus a top-down perspective, and therefore rejects the paternalist notion that "experts know what is best and will tell people how to behave for their own good" in favor of an audience-centered approach which seeks to understand what people want and provide them support in acquiring it."
A social marketing campaign should be considered a long-term multi-channel initiative. One that includes communications and advertising.
Here are five creative strategies to use for social marketing. These examples all feature video, but I've chose the video only because it summarizes the campaign. You will want to consider multiple tactics, and in fact each of these campaigns featured have complex multi-channel strategies.
The social marketing strategy of "showing the consequences"
This is classic social marketing. Think of the iconic anti-drug ad that compares your brain to an egg, and the effects of drugs on your brain. Clear, relatable consequences.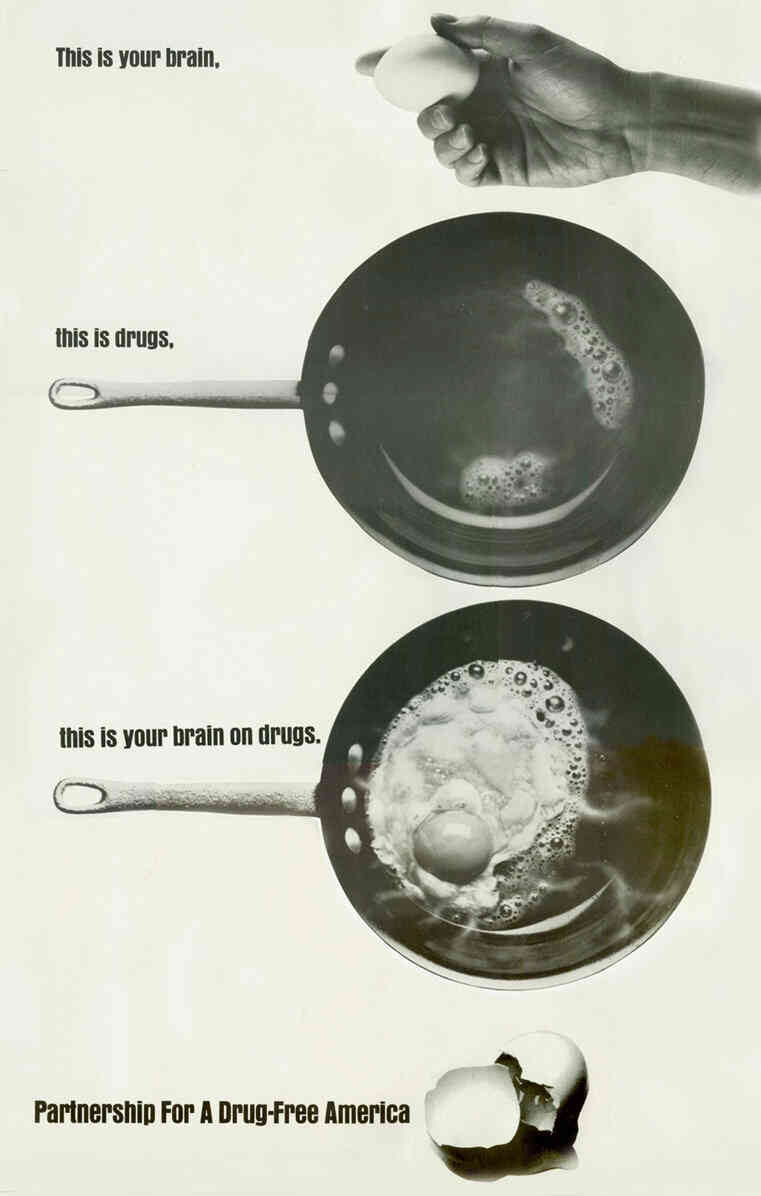 The logic is sound; show the consequences of the behaviour to motivate change. This can be very effective in breaking through the clutter. You can use shock to your advantage as long as you are not over dramatizing; which can undermine the credibility of the message. With the Consequences Strategy keep your facts straight and don't over exaggerate.
Consequences strategy for drinking and driving
SGI's Disappearing People is an example of effectively showing consequences.
Saskatchewan has a relatively small population. Even our cities feel like big, small towns. Everybody knows someone who has been impacted by drinking and driving. This campaign reminds us that this is a real problem that impacts real lives, real families, maybe even someone you know.
The campaign highlights 12 lives cut short because of the senseless decision someone else made to drive impaired. These are real Saskatchewan people who were killed by impaired drivers here in our province. We feel the consequences through those left behind loved ones whose lives will never be the same. It's a heartbreaking call to "Always plan a safe ride home".
Consequences strategy for rail safety
Humour is rarely used in social marketing campaigns but I want to acknowledge an amazing example that uses humour effectively. Dumb Ways To Die is one of the most awarded social marketing campaigns in history.
This Australian campaign made by Metro Trains in Melbourne, Australia, was created to promote railway safety. The approach is a completely different tactic to the serious or fear-based messages we often see.
The two minute commercial picked up hundreds of millions of views and is one of the most viral ads of all time. It helps that the song is ridiculously catchy (trust me, it will be stuck in your head all day now) and it charted on iTunes in 28 countries.
The social marketing strategy of "empowerment"
Sometimes, giving people the power to take action is the most motivating message. Rather than a "don't" message—don't smoke, don't do drugs, don't litter—you can create a powerful message asking people to take responsibility.
Instead of focusing on the problem, you are focusing on a solution.
SGI's Be A Good Wingman took this approach by focussing on the bystander's responsibility.
Drinking and driving has been a social problem for many years. Annually it accounts for thousands of deaths worldwide. Like many governments, Saskatchewan is working to reduce the number of drink drive related deaths and serious injuries.
Empowerment strategy for drinking and driving
"Are you okay to drive?" "Yep, I'm fine." This exchange was something we witnessed many times during our research and brainstorming phase of planning. People who are out drinking with their friends, sometimes for hours on end, would not admit to needing, nor suggest finding, an alternate ride home. There is a gray area that hovers right around the consumption of a few drinks, where people will make the risky choice to simply drive home.
The most interesting part about this end-of-the-evening conversation, was the matter-of-fact tone, almost scripted, exchange between lifelong friends. These same friends would move mountains and donate organs for each other if the need was there. Yet, a blind eye is turned, and the care foregone with the easy, welcomed declaration of "Yep, I'm fine." Phew. Okay. I did my part, I'm off the hook now. G'night! But. They are your friend. Your BEST FRIEND. What if something happened after they left? A collision, an injury or worse? Something that could have been avoided with a less-invasive-than-surgery but still life-saving strategy of "Let's share a cab" or "Jenny will pick us up."
This was the birth of the rallying call to Be a Good Wingman. Be the one your friends can count on to look out for them. It's born from the literal fighter pilot meaning of protection, (think Maverick and Goose) while being a twist on the more casual reference of going out drinking with friends. When life or death is on the line, as it is in our province, please, be a good wingman. Your friends deserve it.
Empowerment strategy for interpersonal violence
Another example of the empowerment approach is the public awareness campaign to address interpersonal violence and abuse. The campaign is the result of a partnership between the ministries of Justice and Attorney General and Corrections, Policing and Public Safety, along with the Status of Women Office.

The theme of the campaign, Excuses only cover the truth. With a call for us to Face the Issue. End the Abuse. The campaign empowers us to share responsibility and shift attitudes and norms that perpetuate interpersonal violence.
The communications plan is to increase awareness of the need to address Saskatchewan's unacceptable rates of interpersonal violence, but also how Saskatchewan people can take responsibility and contribute to solving this issue.
The key goal of the campaign is to dismantle the underlying attitudes, behaviours and actions of interpersonal violence and abuse, and start a new conversation around interpersonal violence with the aim of creating a safer future for women and girls in Saskatchewan.
The concept of social or shared responsibility is to empower each of us to take action, speak out and recognize that it is unacceptable to protect abusers.
This advertising campaign features the faces of strong and diverse women, who are slowly covered up by the excuses people around them use to avoid taking action when they see signs of interpersonal violence and abuse.
The social marketing strategy of "advocacy"
If you are a brand and interested in entering social marketing, the strategy of advocacy is the safest space to enter social marketing effectively. The brand is not selling its product, but they are saying, "this is something we believe in. If you believe in it too, come with us and we will work together to make a change." The hallmark example is Dove Real Beauty.
The advocacy strategy for Dove
In the spring of 2004, Unilever cooperated with Harvard University and the London School of Economics to conduct a survey of women in more than 10 countries, and created "The Real Truth about Beauty: A Global Report". It highlighted the conflict between "the authentic individual beauty" and "portrayals of female beauty in popular culture".
It led to the "Real Beauty" campaign, which started in North America and Germany in 2004, and gradually expanded to all major markets around the world. In the process, the positive feedback from consumers helped Dove find the universal insights of female consumers. The brand concept of "simple and real beauty" continues today.
Dove went all-in and has led a strong social movement. And lest you think it self serving (it did increase sales) the campaign has also helped Dove increase women's confidence.
Dove opened the door and major marketers appear to be embracing social controversy as a branding strategy producing creative that stretches beyond pushing product.
Always: "throw like a girl." Nike: "what girls are made of."
Following Dove's success, Unilever has changed their entire corporate approach. They declared each of its products will be attached to social change. Infusing its brands with social purpose has become a global priority at Unilever.
A caution to brands who enter social marketing
When it goes wrong, it can go really, really, really wrong. Remember when Pepsi tried to attach itself to police brutality with its infamous Kendall Jenner Live For Now ad? It is so bad that Pepsi has scoured the internet to erase all evidence.
Two major lessons for brands in social marketing
It's not about you
The product should not be the focus. In its commercial the Pepsi bottle was overly front and centre. Your brand needs to be the supporting actor here, not the hero.
Put your money (and efforts) where you mouth is
You need to walk the walk. Simply creating a commercial isn't enough. Remember Dove started with research and has gone on to create an entire self-esteem project.
The social marketing strategy of "celebrity"
A celebrity can be a breakthrough voice for social change.
Now we love to use celebrities to boost our cause, because a cause can gain an instant halo with the right celebrity. (A super hip halo!)
But cause marketing and social marketing are similar, but different. Always remember social marketing is trying to change behaviour. Cause marketing is often interested in fundraising.
For a lot of celebrities the motivations to take part in social change campaigns are rooted in their own experiences. Jackie Chan became an anti-drug activist after his own son was arrested and imprisoned on drug-related charges. Lady Gaga started the Born This Way Foundation because of her own childhood experiences.
Celebrity is most effective when it's personal to them. And for marketers it's best to step out of the way and allow celebrities to be themselves: after all, you want them for their talent and charisma.
In the early days of the coronavirus the efforts by Ryan Reynolds for influencing our behaviour during COVID-19 is a great example of how to use celebrities—turn them loose.
Another important message from an important celebrity. Let's spread the word not the virus. I happily nominate, @stevenpage @Sethrogen and @TerryR49776917 #PlankTheCurve #StayAtHomeSaveLives pic.twitter.com/IRJNI9Y6G9

— Ryan Reynolds (@VancityReynolds) March 23, 2020
A caution about celebrities and social marketing
The public has tremendous bullshit radar. If the cause isn't authentic or association isn't genuine, your celebrity campaign is likely not going to succeed. A 2019 study on public and non-profit marketing1 showed the public is very suspicious of the celebrity motives. Interviewees perceived strongly that self-interest motivates celebrities to appear in social marketing advertisements.
Also, if using a celebrity, interviewees expected them to be morally sound.
The social marketing strategy of a "challenge"
Sometimes, the most motivating messages take the form of a challenge.
For example, instead of telling Rider Fans what they needed to stop doing in the stands (swearing, fighting, etc.), we told them to take responsibility for themselves by taking a pledge.
The challenge strategy for the Saskatchewan Roughriders
The most powerful part of a challenge or pledge is it instills action.
A pledge (whatever form it takes) is a positive intention to take some action. For marketers we ask people to make a pledge or a promise, usually publicly. It can be ribbons, buttons, t-shirts and bumper stickers that indicate support or behavior change, or Facebook posts and yard signs that tell the neighbors what you have done.
Research has shown that commitments can increase the percentage of people who will adopt a new behavior and give up an old one.
And, if people make a small commitment they are more likely to adopt something bigger.
How small? Well for Bell it started as small as sharing a hashtag—
The challenge strategy for Bell
1An exploratory study on perception of celebrity endorsement in public services advertising Kara Chan & Ting Zhang International Review on Public and Nonprofit Marketing volume 16, pages 195–209 (2019)